Mini Sticky Date Loaf with Golden Syrup Butter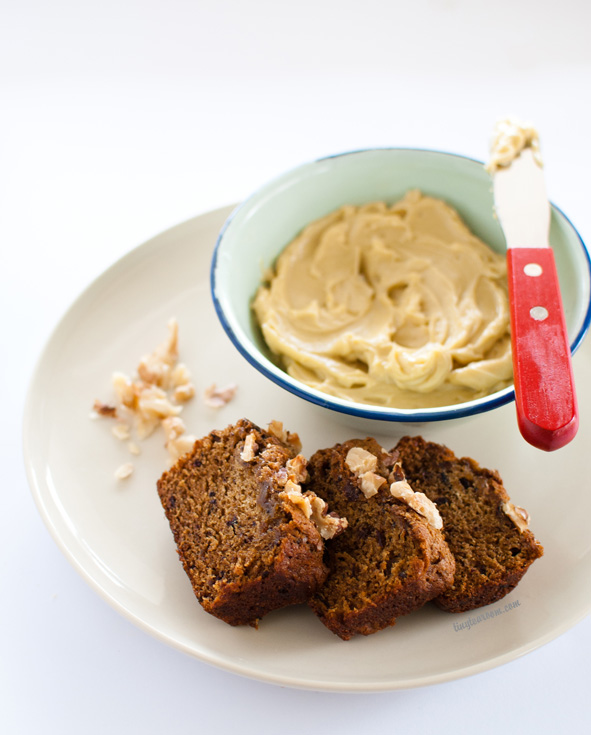 I get so excited when I come across a recipe that works very well. It's almost kiddy like. Similar to when a child gets hold of a new toy and spends days walking around with it like it's a security blanket. This recipe for a sticky date loaf worked perfectly for me. I want to scream it from the rooftops or print it on a flyer and drop it into people's mailbox.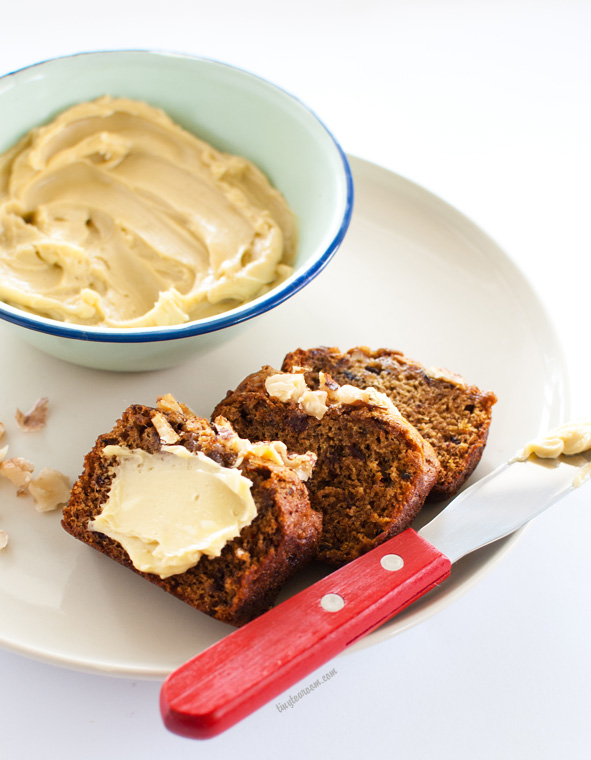 I've tried several sticky date pudding recipes before and they have been delicious, but there is something special about this one. It is an easy recipe that can be mixed in one pot. It is soft, moist and isn't overly sweet. The gorgeous flavour of the dates really shines through.
I am an absolute lover of butterscotch syrup on sticky date pudding, it makes it all the more luscious. However this golden syrup butter really compliments the sticky date loaf and lightens it up too.
Mini Sticky Date Loaf with Golden Syrup Butter
Recipe adapted from Quick Smart Cook
Makes 4 small loaves or 1 standard loaf
Sticky Date Loaf
250g pitted dates
1 cup water
60g unsalted butter
180g caster sugar
2 tablespoons golden syrup
1 teaspoon baking soda
2 eggs, beaten
180g plain flour
1 teaspoon baking powder
¼ cup walnuts, chopped
Golden Syrup Butter
125g unsalted butter, at room temperature
2 tablespoons golden syrup
Preheat the oven to 170°C. Butter 4 small loaf tins or 1 standard loaf pan. Place dates in a saucepan with water and bring to the boil, then decrease heat to low and simmer for 3-4 minutes until all the liquid has absorbed and the dates are mushy. Mash to break up any big pieces, then add the butter, sugar and golden syrup. Stir until the butter has melted, then remove from the heat and stir the baking soda into the hot mixture. Cool slightly, then stir in the egg. Fold in the flour and baking powder, then spread the batter into the pan and sprinkle the walnuts on top. Bake for 30 minutes or until a skewer inserted into the centre comes out clean. Cool slightly in the pan, then turn out onto a rack to cool completely.
For the golden syrup butter, in the bowl of an electric mixer beat the butter on high speed until smooth and pale. Add the golden syrup, continue beating and scraping down the sides of the bowl until the syrup is fully incorporated into the butter.
Slice the stick date loaf and serve with golden syrup butter to spread.
All images © tinytearoom.com