Bo Bia – Vietnamese Spring Rolls with Chinese Sausage, Jicama and Egg
Bo Bia is a lesser know variant of the famous Goi Cuon (Vietnamese Summer Roll). It is a similar concept but with different filling. I had never heard of this roll until I mistakenly bought some while I was backpacking through Saigon (Ho Chi Minh City, Vietnam). I thought I was ordering Goi Cuon from the street vendor but luckily got a bag of this. In my severely broken Vietnamese I asked the vendor for the ingredients. However, there was one ingredient that I did not understand. It wasn't until my arrival home and some rifling through cookbooks that I realised it was jicama (yam bean).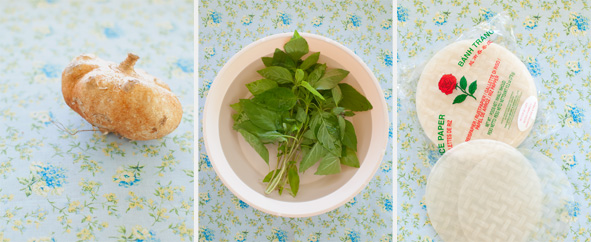 This peculiar vegetable is best described as a cross between apple, radish and water chestnut. It can be eaten raw and is prized for its crisp, clean taste. It also remains crisp if cooked. Jicama can be used in spring rolls and salads and frequently appears in vegetarian meals.
Bo Bia – Vietnamese Spring Rolls with Chinese Sausage, Jicama and Egg
½ cup small dried shrimp
2 chinese sausages (lap cheong)
200g jicama (yam bean), sliced into matchsticks
2 free-range eggs
1 garlic clove, minced
a bunch of thai basil
a bunch of vietnamese mint
oak lettuce
15cm (6″) round rice paper wrappers
1 cup hoisin sauce
½ cup coconut milk
Place the dried shrimp in a small bowl and cover with boiling water. Leave to soak for 30 minutes.
Place the Chinese sausages in a steamer and steam for approximately 10 minutes.
Place the jicama into a small saucepan with two tablespoons of water on low heat for 15 minutes.
Beat the eggs into a small bowl and make one large omelet or two small omelets.
Drain the water from the shrimp. In a small frying pan on medium heat, gently fry the minced garlic and shrimp until golden and fragrant.
Cool the Chinese sausages for a few minutes and slice them at an angle and as thin as possible.
Roll up the omelet and slice to matchstick thickness.
Place the hoisin sauce and coconut milk in a small saucepan over low heat. When the mixture starts to bubble turn the heat off and stir the mixture gently. Allow to cool completely.
Arrange the ingredients into a procession-like line along a table with a bowl of hot water at the beginning. Take a rice paper sheet and quickly dip it in the hot water. This shouldn't take more than a second*. Lay it flat on a plate and place the Chinese sausage, jicama, egg, shrimp, basil, Vietnamese mint and lettuce a third of the way down. Tightly roll the sheet, when you have reached the half way up the sheet fold over the sides and keep rolling.
Enjoy it dipped in the hoisin sauce**.
*Make one spring roll at a time. The rice paper sheet can get too soggy and fragile if left alone for more than a minute
**You can sprinkle some roasted peanuts and chili onto the hoisin sauce mixture