Basic Hearth Bread – Making my first loaf of bread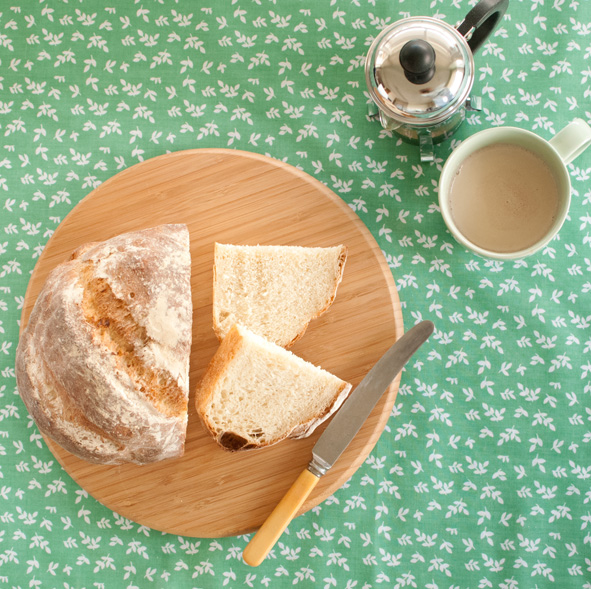 I always put making bread from scratch into the too hard basket. The thought of standing there and kneading dough for 30 minutes really put me off, not to mention the long rising times and the age old dispute about sourdough vs fresh yeast vs dry yeast. It was just easier to go to my local artisan bakery and buy a loaf for a few dollars. It only takes about 30 minutes to walk there and back.
That all changed a few months ago when I discovered CityHippyFarmGirl. She made gorgeous luscious loaves and it inspired me to begin my own sourdough starter. I did some research and settled on a recipe from one of my favourite food writers. I purchased organic rye flour and organic bread flour and followed the recipe as closely as possible. It failed on the fifth day. It stopped bubbling and emitted a vomit-like odour. I threw the entire thing in the bin and decided that I don't eat bread often enough to justify maintaining a starter.
Then my friend Richard recently began Project Sourdough. It made me think that perhaps I needed to build my confidence. Starting with sourdough was probably too ambitious for someone that had little experience. I started to flick through Rose Levy Beranbaum's The Bread Bible. Her chatty and friendly prose inspired me to create the Basic Hearth Bread. It uses instant dried yeast and is part white and wholemeal. The process was labour intensive and time consuming but I was rewarded with an amazing loaf of bread which was so much better than anything that came out of a bread machine. It is not yet as good as the stuff I buy from the artisan bakery but with patience and practice I think I will get there.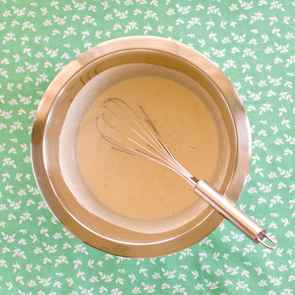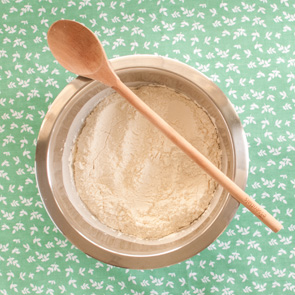 The recipe uses a sponge starter consisting of bread flour, wholemeal flour and water with the addition of some honey and a touch of instant yeast. It is then covered in a blanket of bread flour and yeast and left to sleep in the fridge overnight.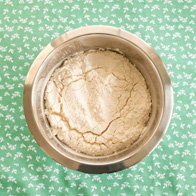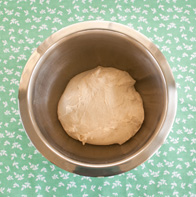 It is then taken out in the morning and left to sit for an hour to come to room temperature. The sponge has bubbled through the blanket of flour and cracks show.
The sponge is then mixed with the flour blanket and is kneaded and risen three times before it is slashed and placed in the hot oven. Some ice was included in a tray at the bottom of the oven.
After I had baked my bread I realised that my dough was not risen enough when I slashed it which explains why the dough dragged when I was slicing my way through it.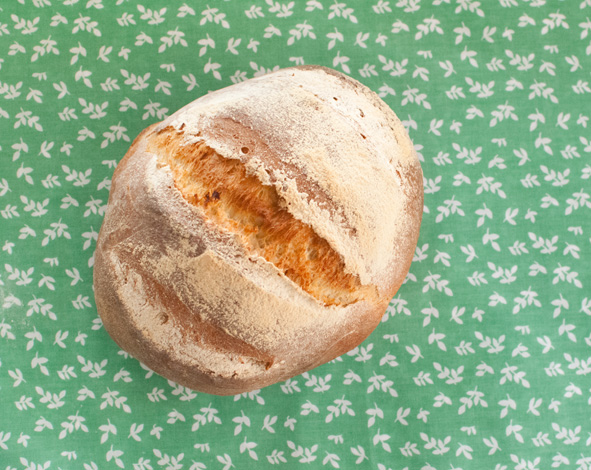 The loaf grew and bumps started to show on the side. The middle slash tore through and the loaf turned a deep brown. When it was taken out of the oven the loaf crackled and popped and I clapped my hands and danced. The crust was firm and the crumb was chewy. It was the best tasting bread I had ever made!
I had become so excited by this experience that I decided to try creating a sourdough starter again. This time I'm using another method. It is now a week old and survived the dreaded fifth day.
I am submitting this to Yeastspotting