Dried Strawberries with Honey and Yogurt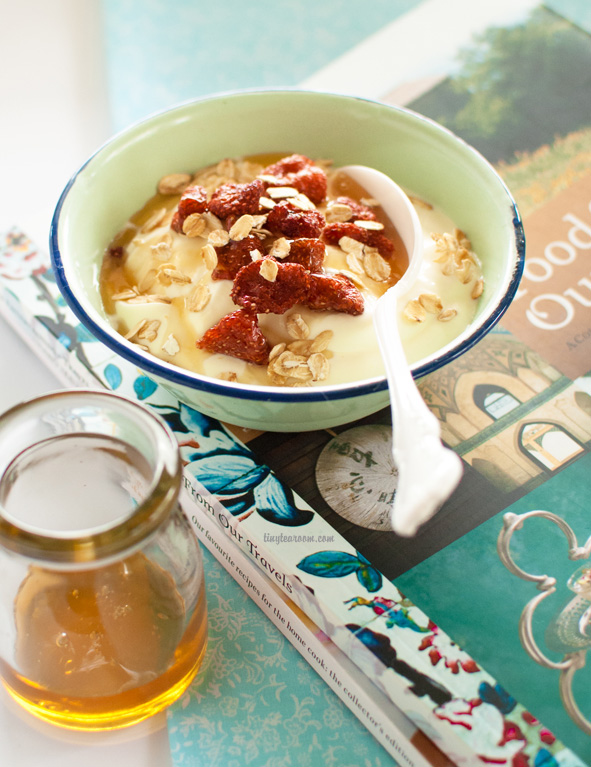 Weekend breakfasts are my sanity saviours. During the week I am an engergizer battery constantly on the go and always in a rush. It is an absolute treat to sit peacefully by the window with a cup of tea and a bowl of something beautiful. I watch the sky change colours and listen to the birds sing their songs. I reflect on the week that has past and hope for the best in the next.
It is extraordinary how a gorgeous breakfast can set the tone for the day. If only I had the discipline to organise myself every morning for breakfast, then perhaps everyday would be wonderful.
Dried Strawberries with Honey and Yogurt
Serves one
¼ cup traditional rolled oats
½ teaspoon ground cinnamon
1 cup plain greek yogurt
2 tablespoons honey
¼ cup dried strawberries or your favourite dried fruit
Toast the rolled oats in a hot frying pan until they are golden. Sprinkle cinnamon over the oats. Set aside to cool. Place the greek yogurt in a bowl and sprinkle with the cooled oats. Add the dried strawberries and drizzle the honey over the top. Turn off the tv, radio, telephone, internet. Lock the door, open the window, pull up a seat and enjoy the morning.
All images © tinytearoom.com