Apple Almond Snail Pastries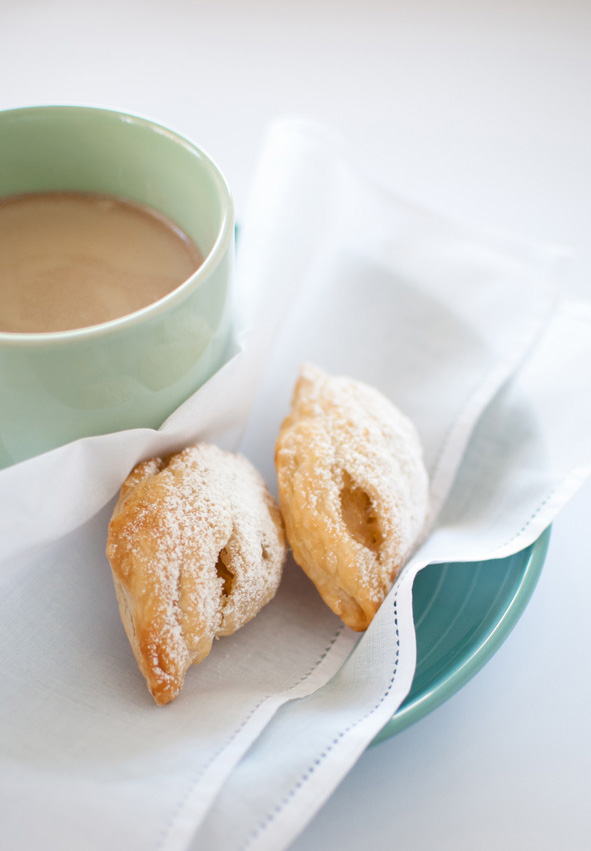 There are few things that I can say that I hate passionately. One of these is wasting food. It causes me deep dispair when I spend hours in the kitchen nurturing a pot of gold and it turns out to be a dud. My partner and I try our best to eat it or I try and salvage it somehow.
One of these unforgettable times was when I attempted to make puff pastry. It was one of the most excruciating experiences. Somehow, somewhere in amongst the rolling, folding and refrigerating, I mucked up the recipe and it turned out a mess. The entire dough saw the bottom of the bin. I had lost an entire day of the weekend.
Since this fiasco I haven't gone anywhere near a puff pastry recipe. That is until I was watching an episode of Jamie Oliver's 30 Minute Meals. He was putting together a dessert and rolled out store-bought puff pastry. "Quite frankly I couldn't be bothered making my own puff pastry. If you've got time to make puff pastry, you need to get yourself a job." I love this man for his passion and honesty. He had relieved me of the shame. I went out to the grocery store and bought some all-butter puff pastry sheets and made this delicious Apple Almond Snail Pastry that I had my eye on for a while. It turned out very well. Although I think I was a bit heavy handed in my rolling. The snail aspect of the pastry didn't really turn out. The kitchen smelled of sweet apples and pastry. It was a happy day.
Apple Almond Snail Pastries
Recipe adapted from Baking: Essential Companion
Makes 12 small pastries
Puff Pastry
2 sheets of good quality, all butter, puff pastry
50g unsalted butter, melted
50g icing sugar
Almond Cream
75g unsalted butter
90g caster sugar
1 egg
1 tablespoon custard powder
100g almond meal
Apple Filling
100g unsalted butter, diced
4 green apples, peeled, cored and diced
100g caster sugar
1 egg whisked with 1 tablespoon milk
1/ Layout the pastry sheets on a floured work surface. Brush the entire surface with melted butter and dust evenly with the icing sugar. Roll up the pastry firmly into a log. Wrap in cling wrap and refrigerate for 2 hours.
2/ In a bowl of an electric mixer, beat the butter and sugar on high speed for 5 minutes until pale and creamy. Add the egg and beat well. Add the custard powder and almond meal and mix on low speed until combined.
3/ Heat a large frying pan, add the diced butter and apple, and cook over a high heat until the apple starts to colour. Add the caster sugar and continue to cook until caramelised. Transfer apples to a heatproof dish and set aside to cool.
4/ Preheat oven to 180°C. Line two baking trays with baking paper. Using a knife, cut the pastry log into half-inch slices. Place each spiral cut side up a lightly floured work surface and roll out to an oval shape. Place 1 teaspoon of almond cream in the centre and 2 teaspoons of apple mixture on top. Brush the edges of the pastry with egg wash and fold one side over to form a semicircle, then press edges together firmly to seal. Brush with egg wash and place on prepared baking trays.
5/ Bake the pastries for 20 minutes or until golden. Allow to cool for 5 minutes, then dust with icing sugar to serve.
These are best eaten on the day they are made. They become very soft after 24 hours.
All images © tinytearoom.com